At Shepco, we're family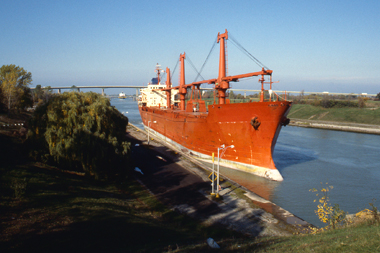 On Cushman Road in St. Catharines, not far from Eastchester Avenue or the Welland Canals Parkway, there are a lot of businesses, some of them family-owned small- and medium-sized businesses.
It's a community into which the Shepard family fits nicely – it's where we put our 46,000 square-foot warehouse facility, providing custom packaging, distribution, assembly and fulfillment services throughout North America. (We're Shepco Warehouse Services, a division of Borderline Systems Niagara Inc.)
Warehousing is becoming big business – but at Shepco, we're really just local business owners; a family that treats its staff and clients like family, too.
There's a lot to be gained in dealing with the small- and medium-sized businesses (SMBs) in our community. Since our Shepard family has been in business since 1956, we have seen first-hand how important it is to put the emphasis on supporting local industries and services.

At Shepco, our family has grown and changed with the times, entering the digital age and improving warehouse technology with success brought on by the skilled abilities of our family of staff.
We know that big chains may make it into the news spotlight more often than SMBs providing the same services, but there are definite advantages to our family of clients in dealing with SMBs over dealing with large chains.
Here are just a few reasons why our clients, and thousands of Niagara residents, seek out the services of local SMBs:

We're local
Being local means we hire locally; use local companies for services; offer personalized service to our clients; take part in community events; participate in local charity fundraising and take pride in our community's successes. That isn't to say big chains don't treat people like family; we just feel their links to the community aren't as strong.
At Shepco, personalized service means our family of expert staff offers respectful, one-on-one service to our clients you likely can't get at larger, corporate chain businesses. Yes, we are concerned about financial stability too, but we won't sacrifice our family of clients and their needs, just to make a buck.

There are cost advantages
Operating an SMB is different than operating a nationwide chain. Our operating costs are lower, and while the big chain might beat us out on national advertising power and dollars, it doesn't cost as much for us to advertise in local sources, like community newspapers or local radio stations.
Another cost advantage is that the big chain needs a big customer service department. At Shepco, we will never outsource services to other nations, where operating, say, a call centre, costs very little. When the big chains outsource their call centre, they take jobs in their communities away from local, skilled tradespeople. As an SMB, Shepco doesn't need a call centre to offer respectful customer service to our family of clients.
In Canada, SMBs can access small business loans and grants at start-up, enabling them to compete with the big guys right off the bat. Because the reach of an SMB is local, it earns the respect of its community by reinvesting its profits back into the city in which it lives. For Shepco, home is St. Catharines, and has been since the day on which we opened our doors.

Cut the red tape
SMBs can make decisions to implement changes faster than big chains, mostly because fewer people are involved. Big, corporate chains that need to deal with boards of directors and investors don't have the same flexibility as SMBs when it comes to improving their operations.

Keep in touch
It's much easier for the family of staff of an SMB like Shepco to know everyone's name, and have no trouble communicating their great ideas about how we operate to others in our company. We're a family; we all share our ideas and appreciate that our members care enough to give us their best, every day.

In it for the long haul
We're sustainable. Our Shepco business model allows us to use our community partnerships to our advantage, sometimes sacrificing short-term gain for long-term gain so as to serve our communities, our family of clients, and our family of staff, to the best of our abilities.

We were here for our community yesterday, and we'll be here tomorrow, too.
Why? Because we're family.
Do you want to know more about Shepco, and our warehousing, packaging and fulfillment systems? Reach us by phone at 905-687-4014, or send us a message via the contact page on our website, HERE.
We're Shepco Warehouse Services, a division of Borderline Systems Niagara Inc. … keeping our family of clients, and their families, happy since 1956.
Comments