It's never too early to think about Christmas!
It's a little bit like the mythical North Pole in Shepco's warehouse, this time of year.
The Christmas season is nearly upon us: Soon, at retailers everywhere, you'll be seeing displays and merchandise intended to evoke gift-giving desires. Many of those displays will have been stored locally, within Shepco's walls.
Warehousing is just a part of what we do: Borderline Systems Niagara Inc. is also a fulfillment centre offering storage, pick-and-pack, and e-commerce order filling services (called third-party logistics).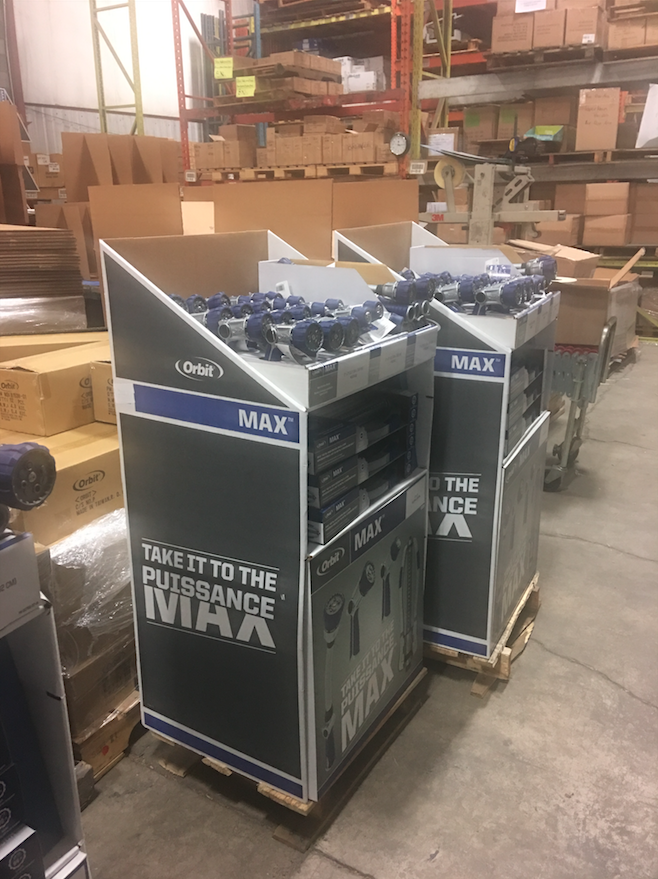 Because we are located strategically between the Canada-U.S. border and the Greater Toronto Area, our services are employed by a wide range of retail clients that includes Walmart; Amazon; Home Depot; Costco; Lowes; the LCBO, along with many Niagara wineries and their suppliers.
For some time now, seasonal displays have been rolling in for our family of clients.
You're probably thinking: "It's too soon to be thinking about Christmas!"
For the average family, sure: It's too soon.
For North American retailers, however, the push to bring in Christmas-related sales profits begins sometime before Halloween strikes, making this "shopping season" one of the longest – if not THE longest – of the year. Planning of sales strategies for the retailers themselves begins months or even years before the season arrives.
Even if you detest the blaring of Christmassy pop music of which some stores are so fond, at Shepco, our staff has discovered there are a few ways regular shoppers can benefit from the length of this shopping season.
Shop early, when retailers offer the best selections on seasonal merchandise;
Take advantage of seasonally adjusted shopping hours, visiting retailers early in the morning, or late at night where possible to avoid crowds;
Shop the sales flyers. There are bound to be sales items offered during the season that will suit your shopping needs;
Shop online sales and clearance of your favourite retailers' websites to avoid having to drive to stores;
Sign up for email sale notices from your favourite retailers, which often offer special discounts via email coupons only, and
Compare prices before you buy: Digital e-tailers, like Amazon, may have seller partners offering retail goods at prices that are lower than those of big-box stores. Of course, some retailers will price-match any sale item, as long as it is identical to the stock they carry.
Some customers forgo completely a visit to the store this time of year, replacing it with online shopping for all their needs – from groceries to gift items.
If you are shopping at any of Shepco's family of e-tailers, there's a very good chance your merchandise will have been warehoused, picked, packed and sent out to you from within our walls.
We love this time of year; it brings out the child in our family of staff members! Every day from now until after Dec. 25, coming to work is like taking a trip to the mythical North Pole.
When we step inside the Shepco doors, we magically transform into Santa's team of helpful Elves.
The only difference? We're taller…and we don't use reindeer to deliver your parcels!
Want to know more about Shepco's warehousing, packaging and fulfillment systems? Reach us by phone at 905-687-4014, or send us a message HERE.
We're Shepco Warehouse Services, a division of Borderline Systems Niagara Inc.…where our family of team members has been keeping your family of team members happy, since 1956.
Comments