Nuance a Niagara winery's BFF
At Borderline Shepco, we think we are pretty good at what we do.
Our warehouse is organized in a way that best serves our family of clients, and we make sure we know what kinds of products we're storing for them. If anything requires special treatment, we make sure those products receive it.
That's where our staff excels: In customer service, because if our family of clients isn't happy, we don't succeed, savvy? Their products, and their needs, are our world.
Recently, some alterations we are planning for our operations have required us to learn a great deal more about the products we carry for our family of clients. This has been both challenging, and fun.
For example, we toured nearby Niagara wineries to get a better sense of our clients' needs. These tours turned into a staff-bonding session, as we expanded our knowledge as a team.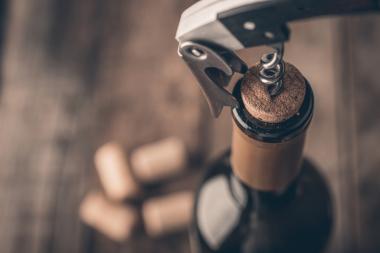 While we're a bit more knowledgeable about wine now, our Borderline Shepco team has also come to realize that we aren't alone in the way we strive to use knowledge as a helping hand.
There are other companies out there – "support" companies, let's call them – and it is their mission to help their family of clients think outside the box, creating unique products that will appeal both to an existing customer base, and prospective customers, too.
The trade company Nuance was founded specifically to assist winemakers in making their products better. Well known throughout the winemaking world, Nuance is at the forefront of the wine industry's developments.
Founder Thierry Lemaire, a Swiss-born winemaker himself, has nearly 20 years of hands-on experience, along with several years of experience promoting innovative approaches to wine maturation, in both traditional and alternative winemaking techniques.
In Niagara, the Nuance team specializes in understanding the specifics of the Canadian winemaking environment. Our wineries benefit from Nuance's technical advice, as their teams support all aspects of the winemaking process, from harvesting grapes; to wine maturation; even to bottling techniques.
The company's level of expertise allows Nuance, in its winery supply division, to bring from around the world the specific products that winemakers need to get the job done. Our Niagara wineries rely on Nuance for both technical advice, and for the specialty equipment they need to produce the award-winning, liquid bounty that is Niagara wine.
As far as support companies go, at Borderline Shepco, we'd say Nuance is a Niagara winery's BFF.
***
Want to learn more about Nuance and the way they support Niagara wineries? Contact Us!
Want to know more about Shepco's warehousing, packaging and fulfillment systems? Reach us by phone at 905-687-4014, or send us a message HERE.
We're Shepco Warehouse Services, a division of Borderline Systems Niagara Inc. … where our family of team members has been keeping your family of team members happy, since 1956.
Comments