Baby, it's Cold Outside! But Inside the Warehouse, it's Just Right
The height of winter, with its blowing snow and colder temperatures, can wreak havoc on goods in storage.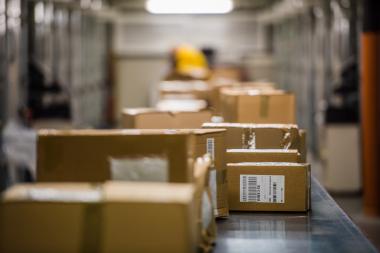 Goods not meant to be frozen can suffer damage if indoor temperatures where items are stored drop below, say, about 5C. The same holds true for temperatures of goods not meant to be heated … sometimes, finding the perfect warehouse temperature is like solving a thermostat puzzle.
That's why, at Borderline Systems Niagara Inc., we store our clients' goods in different warehouse "zones."
Because of what we do – provide warehousing, storage, pick and pack fulfillment, and e-commerce order fill services, plus shipping products across Canada to retailers such as Walmart, Costco, Home Depot, and Lowes – it is absolutely necessary to offer temperature-controlled areas in our 46,000 square-foot warehouse. Borderline staff members are adept at solving this thermostat puzzle on a daily basis. Pallets of goods are ideally stacked three or four pallets high, or stored on pallet racks with the lower shelves used as "picking" locations for goods being shipped out by our staff.
Our warehousing experts are easily able to isolate those areas requiring extreme cold from those areas requiring warmer storage temperatures. When we walk through the warehouse, it's not uncommon to need a jacket at one end, but not at the other.Borderline's warehouse environmental controls mean our clients' goods will be stored as needed, regardless of the temperature outdoors.
With more than 60 years in business, Borderline has taken advantage of changes in technology to keep up with our clients' needs. We have evolved our business services in line with our clients' growth in the explosion of the Canadian retail and e-commerce marketplace. That means, in addition to specialized inventory controls, we can offer a temperature-controlled warehouse setting. Our warehousing experts are fully trained to accommodate all clients' needs – even when it means rearranging our warehouse puzzle so temperature-controlled zones can be created.
It may be a deep freeze outdoors, but inside the Borderline warehouse, we've got the weather under control.
Do you have warehousing, packaging or fulfillment questions for Borderline Systems Niagara Inc.? Reach out to us via the contact page on our website here. Or give us a call at 905-687-4014.
Comments